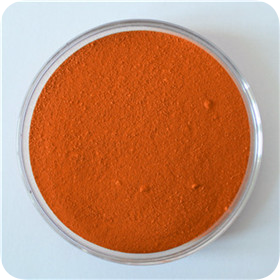 Pigment Orange 13
C.I. NO. : 21110
CAS NO. : 3520-72-7
EU NO. : 222-530-3
Molecular Formula : C32H24CI2N8O2
Chemical Group : Disazo Pyrazolone
Detailed
Manufacturers of Organic Pigment Orange 13
Hangzhou Origo Chemical Co.,Ltd is leading manufacturer, suppliers and exports of pigment orange 13. Orange 13, is a semi-opaque, Disazo Pyrazolone pigment. It has moderate fastness to light, heat and solvents.  It has about 2% of moisture, and is recommended for water-based ink, coating, and PVC. Orange 13 exhibits high gloss, good printing properties and color strength. It can be used in all printing systems. It is recommended for paste inks as well.  The pigment is quite resistant to acid, alkali and alcohol. It can resist heat up to 160C. It is a bright, clean pigment with excellent tinting strength. Pigment Orange 13 is also recommended for UV based packaging inks and metal deco. The pigment is used extensively in rubber, in the plastics industry. Orange 13 can be found being used popularly in the textile and coatings industry as well. At Origo chem we offer the best quality and variety of pigment orange 13 with highest quality and safety standards to assure best results.
Physical Data and Fastness Properties
Moisture (%) :≤2.0
Water Soluble Matter (%) :≤1.5
Oil Absorption (ml/100g) :30-40
Electric Conductivity (us/cm) :≤500
Fineness (80mesh) % :≤5.0
PH Value :6.0-7.0
Acid Resistance :4
Alkali Resistance :4
Alcohol Resistance :4
Ester Resistance :4
Benzene Resistance :4
Ketone Resistance :4
Soap Resistance :4
Bleeding Resistance :4
Migration Resistance :4
Heat Resistance (℃) :200
Light Fastness (8=excellent) :6
Application
1. Plastics: used for low temperature plastics like PMA, extend used for viscose spin dyeing and mass dyeing.
2. Rubbers: this is the primary application of PO13, it's fast to vulcanization and bleeding in natural rubbers. Due to its excellent fastness to water the pigment can be applied for bathing articles, sponges and sealing rubbers for preservation glasses.
3. Inks: It's can be used for packaging printing inks, another interested thing is it's quite corresponding with Pigment Yellow 12, that can be combined as shading component.
4. Textile Printing: widely used in textile printing pigment pastes.
Available Commercial Specific Grades:
For the details grades, specialized requirements, please send us emails.