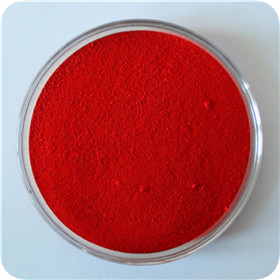 Pigment Red 170
C.I. NO. : 12475
CAS NO. : 2786-76-7
EU NO. : 220-509-3
Molecular Formula : C26H22N4O4
Chemical Group : Naphthol AS
Detailed
Description
Pigment Red 170 affords medium to bluish red shade and exhibits good fastness properties. PR170 commercially distributes in two types which difference in crystal modifications, they are primarily different perform in opacity. The opaque version known as Pigment Red 170 F3RK, and the transparent version known as Red 170 F5RK. F5RK is much transparent than F5RK, and sightly bluer. However, F3RK is much more stable to such agents than F5RK. PR170 does not bloom but bleed in stoving enamels, opaque versions show better overcoating fastness than transparent versions. Both F3RK and F5RK are widely used for coatings, inks and plastics.
Physical Data and Fastness Properties
Moisture (%) :≤1.0
Water Soluble Matter (%) :≤1.0
Oil Absorption (ml/100g) :35-45
Electric Conductivity (us/cm) :≤500
Fineness (80mesh) % :≤5.0
PH Value :6.5-7.5
Acid Resistance :5
Alkali Resistance :5
Alcohol Resistance :5
Ester Resistance :5
Benzene Resistance :5
Ketone Resistance :5
Soap Resistance :5
Bleeding Resistance :5
Migration Resistance :5
Heat Resistance (℃) :200-240
Light Fastness (8=excellent) :0
Application
1. Coatings: mainly used in high grade industrial paints lends color to finishes for tools, agricultural machinery, and commercial vehicles etc. F3RK also used for automotive finishes or refinishes. It also used in combining with Molybdate Orange to offer a very pure shades of red with excellent hiding power, and combination with quinacridone pigments(Pigment Red 122, Pigment Violet 19 etc) afford bluer red shade.
2. Inks: transparent versions Red 170 F5RK are more preferred for printing inks, include metal deco printing and decorative inks for polyester films, it's tinctorial is very strong and used for a variety high grade formulations.
3. Plastics: mainly used to color rigid PVC. While in soft PVC, it might lending to bleed. And it can be used for plasticized PVC or PUR simulated leathers like for automobiles case, semisynthetic fibers, color yarns, fibers, films etc.
4. Others: wood stains, including solvent based stains, blended with carbon black and yellows to produce brown shades.
Available Commercial Specific Grades:
Fast Red 170 F3RK, universal grade;
Fast Red 170 F5RK, universal grade.
For details and specific requirements, please contact us freely.