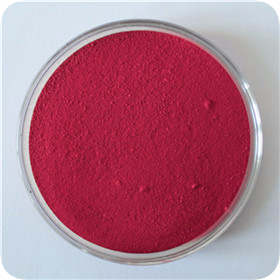 Pigment Red 177
C.I. NO. : 65300
CAS NO. : 4051-63-2
EU NO. : 226-866-1
Molecular Formula : C28H16N2O4
Chemical Group : Anthraquinone
Detailed
Description
Pigment Red 177 affords high brilliance clean red shade and exhibits excellent fastness properties. Its heat resistance is up to 300℃ and provides high flocculation stability. PR177 is a halogen free pigment being unique in red pigments. Mainly applied in industrial paints, spin dyeing, PVC and PE coloration.
Physical Data and Fastness Properties
Moisture (%) :≤1.5
Water Soluble Matter (%) :≤1.0
Density (g/cm3) :1.43
Specific Surface (m2/g) :113
Oil Absorption (ml/100g) :62
Electric Conductivity (us/cm) :≤500
Fineness (80mesh) % :≤5.0
PH Value :7.0-8.0
Acid Resistance :5
Alkali Resistance :5
Alcohol Resistance :5
Ester Resistance :5
Benzene Resistance :5
Ketone Resistance :-
Soap Resistance :-
Bleeding Resistance :5
Migration Resistance :5
Heat Resistance (℃) :300
Light Fastness (8=excellent) :8
Application
1. Coatings: primarily used in combination with inorganic pigments like Molybdate Red Pigments, show advantage of high brilliance and cleanness which are not accessible with other organic pigments. Widely used OEM finishes or re-finishes. At typical processing temperatures for oven drying systems, PR177 is entirely fast to over coating.
2. Plastics: good transparency with fine particle sizes lead it suit for transparent films. Also used for PUR PVC coatings, PP spin dyeing, PAN and PA.
3. Inks: primarily to printing securities like bank notes.
4. Others: used for filters of Liquid crystal displays LCD.
Available Commercial Specific Grades:
For the details grades, specialized requirements, please send us emails.