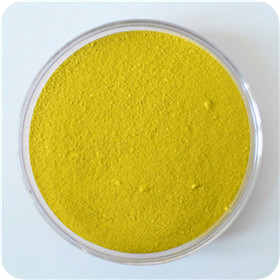 Pigment Yellow 3
C.I. NO. : 11710
CAS NO. : 6486-23-3
EU NO. : 229-355-1
Molecular Formula : C16H12CI2N4O4
Chemical Group : Monoazo Yellow
Detailed
Description
Pigment Yellow 3 affords pure greenish yellow shade, and can be easily combined with blue pigments to produce shades of green; and also used for modify the hue of a green pigments. Commercial types exhibit low specific surface and confer good hiding power on paints, coatings, and prints.
Physical Data and Fastness Properties
Moisture (%) :≤2.0
Water Soluble Matter (%) :≤1.5
Oil Absorption (ml/100g) :25-35
Electric Conductivity (us/cm) :≤500
Fineness (80mesh) % :≤5.0
PH Value :6.5-7.5
Acid Resistance :5
Alkali Resistance :5
Alcohol Resistance :5
Ester Resistance :3
Benzene Resistance :3
Ketone Resistance :-
Soap Resistance :-
Bleeding Resistance :4
Migration Resistance :-
Heat Resistance (℃) :160
Light Fastness (8=excellent) :6
Application
1. Inks: used for variety of packaging inks.
2. Coatings: used for low cost alkyd resin paints and emulsion paints. Its full and medium shades even comply with the industrial standards for exterior house paints.
3. Others: used for textile printing, office articles, artists' paints.
Available Commercial Specific Grades:
Hansa Yellow 10G, universal grade mainly used for offset inks and waterbased inks.