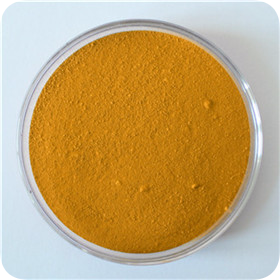 Pigment Yellow 65
C.I. NO. : 21095
CAS NO. : 5468-75-7
EU NO. : 229-419-9
Molecular Formula : C18H18N4O6
Chemical Group : Monoazo
Detailed
Description
Pigment yellow 65 affords reddish yellow shade, exhibits high hiding power and good solvent fastness, it's inferior color strength limited it's applied for printing inks. Mainly used for air dry systems coatings and textile printing.
Physical Data and Fastness Properties
Moisture (%) :≤2.0
Water Soluble Matter (%) :≤1.5
Oil Absorption (ml/100g) :35-45
Electric Conductivity (us/cm) :≤500
Fineness (80mesh) % :≤5.0
PH Value :6.0-7.0
Acid Resistance :5
Alkali Resistance :5
Alcohol Resistance :3
Ester Resistance :5
Benzene Resistance :5
Ketone Resistance :4
Soap Resistance :-
Bleeding Resistance :-
Migration Resistance :4
Heat Resistance (℃) :180
Light Fastness (8=excellent) :6
Application
1. Coatings: mainly used for air drying, emulsion and water based industrial paints.
Available Commercial Specific Grades:
For more, contact us with your specific applications, we shall offer the best solution for you.