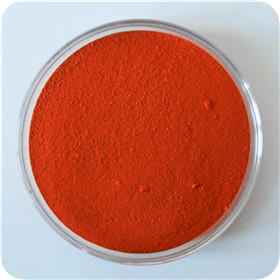 Pigment Orange 34
C.I. NO. : 21115
CAS NO. : 15793-72-4
EU NO. : 239-898-6
Molecular Formula : C34H28CI2N8O2
Chemical Group : Disazo Pyrazolone
Detailed
Description
Pigment Orange 34 affords yellowish orange shade exhibits good solvent resistance. Commercial types distribute from particle size distributions. Transparent version used more for printing inks provides a clean shade and high tinctorial strength, the opaque version primarily used for coatings to replace Molybdate red in industrial finishes. PO 34 is also used for textile printing industry and limited plastics.
Physical Data and Fastness Properties
Moisture (%) :≤2.0
Water Soluble Matter (%) :≤1.5
Oil Absorption (ml/100g) :40-50
Electric Conductivity (us/cm) :≤500
Fineness (80mesh) % :≤5.0
PH Value :6.0-7.0
Acid Resistance :4
Alkali Resistance :4
Alcohol Resistance :4
Ester Resistance :4
Benzene Resistance :4
Ketone Resistance :4
Soap Resistance :4
Bleeding Resistance :4
Migration Resistance :4
Heat Resistance (℃) :180
Light Fastness (8=excellent) :6
Application
1. Inks: used for all printing techniques but often replaced by Pigment Orange 5 for it's better price and light fastness.
2. Plastics: used for plasticized PVC, even a certain tendency to bloom, but it's considerably more stable to light than weaker Pigment Orange 13. Also used for Vinyl floor coverings and cables PVC.
3. Coatings: limited extend used for Air drying system paints and as a replacement for Molybdate Red in industrial finishes.
Available Commercial Specific Grades:
Orifast Orange RL: transparent
Orifast Orange RLS: Semi-transparent
Orifast Orange RLO: Opaque
For the details grades, specialized requirements, please send us emails